| | |
| --- | --- |
| | woensdag 3 juni 2009 |
Chavez talks of CIA assassination plot
Venezuelan President Hugo Chavez has accused the US Central Intelligence Agency of conspiring to assassinate him during his planned visit to El Salvador.
Posted: 11:34:39 PM
---
600ft jellyfish crop circle found in Oxfordshire field
A 600ft jellyfish pattern has appeared in a barley field in Kingstone Coombes, Oxfordshire, in what is one of the most intriguing crop circles ever seen in Britain.
Note from MM:
Marina finished a painting last week ... a jellyfish ... what a "coïncedence"...
www.lucypringle.co.uk - cropcircles
Marina's Jellyfish in the NEMO-toilet
Posted: 11:21:45 PM
---
Not a BAD advice after all:
Arab newspapers warned Mr Obama to beware of lecturing Muslims on his landmark trip.
"Don't be biased towards Israel, don't interfere in countries' internal affairs and don't give lessons in democracy,'' advised a front-page editorial in Egypt's state-owned Al-Rose Al-Youssef.
Bin Laden scorns Obama's charm
Osama Bin Laden = dead, search in this site for this SCAM or CLICK HERE
AL-QAEDA chief Osama bin Laden has scorned Barack Obama's overture to the Islamic world and warned of decades of conflict, at the start of the US president's Middle East charm offensive.
Posted: 11:12:08 PM
---
Daily Motivator
Rich and powerful
The strongest power has no need to show itself or to prove itself. It is quiet, calm, determined and unshakable.
Boastfulness is the surest sign of weakness and insecurity. True confidence has no need to speak of itself.
Authentic richness is endlessly generous. Anyone who has the need to appear rich suffers from a terribly painful poverty of the spirit.
How do you fill your life with richness and power? Honestly be yourself, and give freely of yourself.
Give up the fantasy of gaining benefit over others, for even if you could get it you would receive no real value from it. Instead, make it your business to promote, encourage, raise up, love and appreciate others at every opportunity.
Pretending to be rich and powerful is agonizing work that incessantly erodes your spirit. Being truly rich and powerful fulfills your deepest longings and brings you fully to life.
Ralph Marston | greatday.com
Posted: 8:23:38 AM
---
Ian's Reaction to the Hepatitis B Vaccine
Pictures on this site may be difficult to view.
This site is dedicated to giving voice to Ian Larsen Gromowski.
Ian died of an adverse reaction to the hepatitis B vaccine.
The Life of Ian Larsen Gromowski - Scott and Deanna Gromowski
Scott and I documented Ian's life through photos for medical purposes. A photo was taken almost daily to show the doctors his ever changing rashes and body. Now, the photos can be used to show his journey and help educate the world. Although always in our mind and spirit, the photos help us remember what true pain he endured and what a fighter we were given.
Posted: 8:17:59 AM
---
MAGNETIC MAELSTROM:

"Sunspot 1019 continues to put on a show," reports astrophotographer Pete Lawrence of Selsey UK. "Two distinct main spots are visible with a number of smaller pores scattered around a vast field of magnetic fibrils."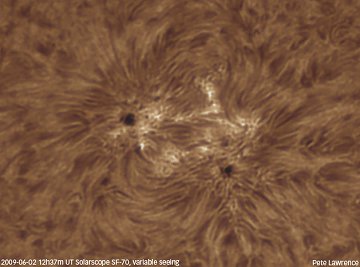 Since the sunspot emerged on May 31st, it has rapidly grown and reorganized itself into the double spot visible today.
A three-day movie from SOHO shows that the two cores are now spreading apart. This could signal a dissipation of the sunspot's underlying magnetic fields and the beginning of the end of this beautiful active region.
Posted: 8:12:26 AM
---
People want revenge: there MUST be a person punished for a crime, it must - it's fair and just ...
(and maybe, just maybe this person was just pulled from the street ...)
Justice?
False feelings ...
Iraqi gets life sentence for UK aid worker's death
Presiding Judge Asaad al-Moussawi said al-Rawi had confessed to the charges and asked him why.
Al-Rawi, wearing a brown jumpsuit and standing in a wooden pen, claimed he had been beaten and given electrical shocks during the interrogation and had been forced to sign papers without viewing their contents.
Torture: will one get an honest answer?
Posted: 7:56:43 AM
---
Grand Theft Auto: How Stevie the Rat bankrupted GM
They may be crying about General Motors' bankruptcy today. But dumping 40,000 of the last 60,000 union jobs into a mass grave won't spoil Jamie Dimon's day.
Dimon is the CEO of JP Morgan Chase bank. While GM workers are losing their retirement health benefits, their jobs, their life savings; while shareholders are getting zilch and many creditors getting hosed, a few privileged GM lenders – led by Morgan and Citibank – expect to get back 100% of their loans to GM, a stunning $6 billion.
The way these banks are getting their $6 billion bonanza is stone cold illegal.
I smell a rat.
Stevie the Rat, to be precise. Steven Rattner, Barack Obama's "Car Czar" - the man who essentially ordered GM into bankruptcy this morning.
Posted: 7:47:13 AM
---
In This NOW
June 3, 2 0 0 7 - on Latest kNEWs
* 9/11 Cartoon REMIX (starring Aaron Russo)
* To listen is so difficult
* Fractals - The Colors Of Infinity ...and more....
Posted: 7:40:45 AM
---
Air France Flight 447 Passenger List
Air France has released a preliminary Flight 447 passenger list showing the nationalities, but not yet listing the names, of all 228 people on board the still missing plane.
Air France Flight 447 is believed to have crashed in the Atlantic Ocean and officials for the airline has already offered condolences to the families of passengers and crew. Air France will be holding a public memorial in Paris at Notre-Dame on Wednesday June 3, 2009 at 4pm local time. Media has been specifically told not to attend the memorial.
Posted: 7:36:32 AM
---
The Tuesday Message from InspirationPeak
on Wednesday .... what a difference a day makes ...
When you give of yourself something new comes in to being... the world expands, a bit of goodness is brought forth and a small miracle occurs.
You must never underestimate this miracle.
Too many good people think they have to become Mother Teresa or Albert Schweitzer, or even Santa Claus, and perform great acts if they are to be givers.
They don't see the simple openings of the heart that can be practiced anywhere with almost anyone.
Kent Nerburn
American Author, Sculptor and Editor
inspirationpeak.com
Posted: 7:19:13 AM
---
© CopyLight 2009 Marinaoflight